Isaac Leonard - Associate in Research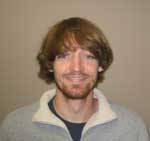 Contact Information
Office: A 0220B
Phone: (850) 645-0546
Fax: (850) 644-7456
Bio
Isaac Leonard is an Assistant in Research at the Florida State University Center for Advanced Power Systems. He has worked at CAPS since 2006 and joined the research staff in 2010.
Education:
2008 Bachelor of Science in Electrical Engineering from The Florida State University
Professional Experience:
October 2010 - Present: Assistant in Research, Center for Advanced Power Systems, Florida State University, Tallahassee, FL
Research Interests:
Real-time power system simulation, power hardware-in-the-loop testing, microgrids and distributed energy resources.
---
Last Updated: Monday, May 7, 2018 at 8:18 AM