Dr. Michael "Mischa" Steurer - Research Faculty III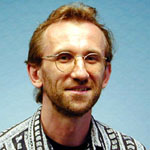 Contact Information
Office: A - 0226
Phone: (850) 644-1629
Fax: (850) 644-7456
Bio
Michael "Mischa" Steurer received a Master of Electrical Engineering in 1995 from the Vienna University of Technology, Austria, and his Ph.D. in Technical Science in 2001 from the Swiss Federal Institute of Technology Zurich, Switzerland. Since then, Dr. Steurer leads the power systems group at the Florida State University (FSU) Center for Advanced Power Systems (CAPS) where he focusing on hardware-in-the-loop real-time simulation and modeling of integrated power systems for all-electric ships and future terrestrial power systems. He is a senior member of the IEEE and a member of CIGRE. Dr. Steurer is chairman of the IEEE Task Force on "Fault Current Limiter Testing", and contributes to several IEEE working groups and one CIGRE working group. Dr. Steurer has authored and co-authored more than 20 peer reviewed technical papers in various areas of electric power apparatus and their system interactions.
Education:
Ph.D., Swiss Federal Institute of Technology Electrical Engineering, 2001
B.S./M.S., Technical University, Vienna Electrical Engineering, 1994
Technical Engineering College, Vienna Electrical Engineering, 1985
Professional Experience:
PHIL testing of the FCL element
Improve FCL system integration Applying a STATCOM for Stability Improvement
CHIL testing of NCSU's STATCOM controller
System integration study for solid-state FCL
Review of DOE sponsored SCFCL projects
Developing test site for FCL cable at ORNL
ESRDC MVDC Task Force
PHIL methods and applications Parametric Sensitivity and Uncertainty Analysis
Fault location in ungrounded DC systems
Electro-thermal RT co-simulations
Equipment sensitivities to time varying waveform distortions
Fast Isolation Device technology development
Research Interests:
Improve the integration of novel high power apparatus, such as superconducting devices, power electronics converters, and novel rotating machines into power systems. The focus is on utilizing large scale hardware-in-the-loop simulations, especially coupled to high power testing for model validation and analysis.
---
Last Updated: Monday, April 10, 2017 at 10:00 AM