October 3, 2019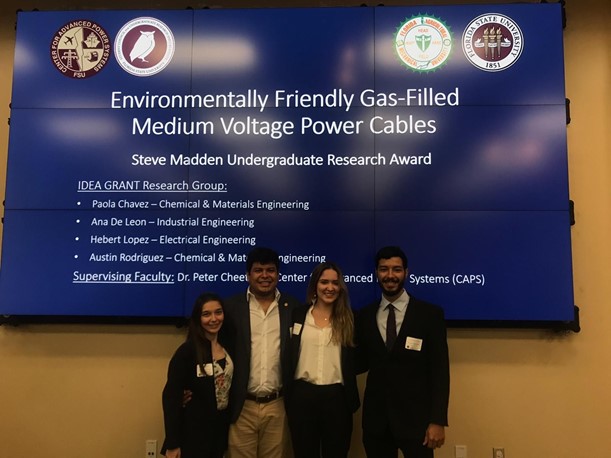 Article Originally Appeared at the FAMU-FSU College of Engineering Website.
On October 1, 2019, Herbert Lopez, Ana De Leon, Paola Chavez and Austin Rodriguez presented their research titled Environmentally Friendly Gas Filled Medium Voltage Cable to the 2019 President's Showcase of Undergraduate Research Excellence.  However, the student's testing of their prototype cable still continues!
Lopez, De Leon, Chavez and Rodriguez collaborate at the Center for Advanced Power Systems (CAPS) research facility to create a novel medium voltage cable that aims to have reduced reactive power than the ones currently used throughout the continental U.S. If they are successful, the cable could pave the way for improved power transmission efficiency on electric grids across the nation.
"Twenty years from now, entire dynasties may be using [the cable]," predicts Lopez, a senior electrical engineering student from Choluteca, Honduras.
Lopez, De Leon, Chavez and Rodriguez are transfer students from Florida State University's Republic of Panama campus, worked throughout the summer and now into fall in the high voltage laboratory of CAPS, a research center affiliated FAMU-FSU College of Engineering. Their research focuses on developing gas-insulated medium-voltage cables using a more environmentally-friendly gas than what is currently available. As part of this research the group will focus on the environmental, manufacturing, electrical and economic considerations that go into designing the cables.
The group met as classmates at FSU Panama and have transferred to the main engineering campus in Tallahassee. They are working together to reach an ambitious milestone.
They were awarded a 2019 IDEA Grant by Florida State University's Center for Undergraduate Research and Academic Engagement. IDEA Grants are given to subsidize students' novel ideas and creative endeavors, ranging from artistic projects to solving practical, real-world problems. The $4,000 from the 2019 Steve Madden Undergraduate Research Award, a grant specified to fund STEM projects, helps cover the costs of their project. IDEA Grant projects are estimated to last eight to 12 weeks.
In order to test their prototype cable, the group must use skills from multiple engineering fields—making it a true interdisciplinary project. One of the key roles Chavez and Rodriguez – the two chemical engineering majors of the group—are focusing on potential gases which could be utilized as part of the insulation of the cable.  De Leon, studying industrial engineering, is understanding how the cable can be manufactured in a continuous process. 
While working at CAPS, the undergraduates are supervised by Peter Cheetham, Ph.D., research faculty at the facility. Under his management, the students test and measure their prototype using the lab's high-voltage equipment. Cheetham said this familiarizes students with realistic engineering work.
"The whole idea of doing this undergraduate research is to expose students to the more practical problems and real-world constraints that they'll see as engineers," said Cheetham. "They also learn how to work as part of a research team and develop critical thinking skills as they solve the problems which inherently arise as part of any research."
With most of their research complete, the student's now focus on ensuring that their prototype cable meets the standards of a medium-voltage cable, the difficulty being that the prototype is insulated by a gas instead of extrusion.  Congratulations students on your impressive accomplishments.  We look forward to see what you will do next!