Dr. Karl Schoder - Research Faculty II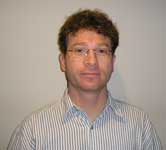 Contact Information
Office: A - 0221
Phone: (850) 645-9182
Fax: (850) 644-7456
Bio
Dr. Karl Schoder is a principal investigator at the Center for Advanced Power Systems, Florida State University. He joined CAPS-FSU in 2007 and his primary research areas are modeling , simulation, and analysis of electric power systems and controls. Dr. Schoder is the co-lead of the power systems group at CAPS-FSU, and many of his projects are concerned with real-time aspects in the context of controller and power hardware-in-the-loop simulation. Before joining CAPS he worked as a researcher at the Advanced Power and Electricity Research Center (APERC) at West Virginia University (WVU).
Education:
Ph.D., West Virginia University, 2002
Diplom-Ing. (M.S.) in Electrical Engineering from the University of Technology, Vienna, Austria, 1991–1997
Ing. in Electrical Engineering, Technical Engineering College (HTL), St. Pölten, Austria, 1986-1991
Professional Experience:
Research Scholar and Professor, Center for Advanced Power Systems, Florida State University, 2007-present
Postdoctoral researcher and Research Assistant Professor at APERC, LDCSEE, WVU, 2002-2007
Graduate Research Assistant, Lane Department of Computer Science and Electrical Engineering, West Virginia University, Morgantown, 1999-2002
Other activities:
Dr. Schoder is a member of IEEE and active in several task forces and standard working groups including the IEEE 1547.1 Standard Conformance Test Procedures for Equipment Interconnecting Distributed Energy Resources with Electric Power Systems and Associated Interfaces. He regularly reviews papers for international journals with a focus on modeling, simulation, and controls for electric power systems and components.
---
Last Updated: Wednesday, August 8, 2018 at 12:28 PM