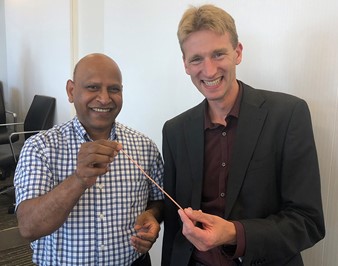 Florida State University's Center for Advanced Power Systems and the Colorado-based Advanced Conductor Technologies LLC are taking a big step in the world of superconductor technology that could have major implications for naval, aviation and power grid applications.
Through a grant program that encourages private industry to partner with university scientists, a research team from CAPS and ACT worked together to demonstrate the first high-temperature superconducting direct current power transmission cable using ACT's Conductor on Round Core (CORC) cable technology. These cables enable transmission of vast amounts of power at high currents that could be used to fuel power grids or help operate an all-electric ship.
"The demonstration is an exciting development and a significant leap forward in achieving the required high-power densities in shipboard power transmission," said FAMU-FSU College of Engineering Professor and Associate Director of CAPS Sastry Pamidi. "CAPS has been developing the cryogenic helium gas circulation technology and superconducting power applications and established the state of the art research facilities and supports ACT and other businesses to move the technology forward."
Continue reading this article from FSU News' Kathleen Haughney here.